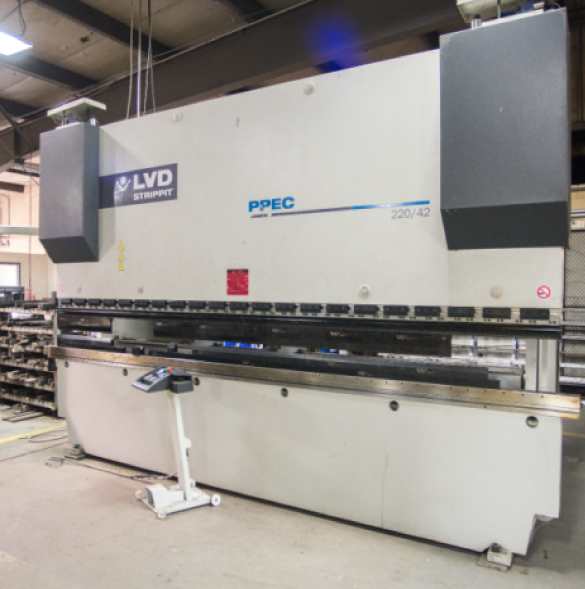 Please review the full line of CNC state of the art fabrication and construction equipment. We are pleased to be able to provide our customers with the latest innovative equipment to complete their jobs with quality and time lines to fit their needs.
Gasketing
Henkel Sonderhoff liquid to foam Gasketing machine CNC controlled
Forming
LVD-PPEC 245-ton, 14 ft bed, 4 axis CNC back gauge, Automatic Controlled Bending (ACB) auto crown fully programable
Safan 200-ton hydro Auto bend 12 Feet former
Cincinatti Auto-Form, 300-ton, 14 ft bed, back gauge
Wysong Auto-Form, 90-ton, 8 ft bed, CNC back gauge
Wysong 35-ton 96 with back gage auto control
(3) porta fab 45-ton Scotchman iron workers
Wysong Roll former 1/4 x 96 auto discharge
Lasers
Mazak Optiplex 3015 8.0KW Fiber Laser with auto changing tables
NTC Toyoma Corporation 5.0kw Flying optic with auto changing tables
Machining
(2) Single Spindle Bridgeport Knee Mills
(Servo) 4 Axis machining center
Hyd-Mech S-23A Horizontal Band Saw
Mass vr4a radial arm auto drill press
Yunan 16×60 inch center manual metric thread lathe
Hass TM1Maching center
4 Spindle Drill & Tap Station 10 station auto toll charger
(3) Flex-Arm Tapping Units
60inch Lathe/vertical Mill (65 inch swing x48 inches high)
Dainichi 10 Foot manual 16x 7ft lathe
Hass SL30 bar pull chuck indexing CNC Lathe 3inch bore 30-inch center 31 swing
Monarch 22inch swing by 84-inch manual lathe
Line boting tool off site capability
Thompson service grinder 12x16x36 Auto servicer
Time saver 24 auto exhaust
Sheldon Lathe 10×36 manual lathe
Daewoo 6 HS CNC Lathe 12inch x 14inch 12 station tooling
Robotic Welding
Fanuc 100-I Robotic Welding Cell, Rotary Axis, Lincoln 450 Power Wave Amp Power Supply
(3) Tube master 12000 Auto purge auto tubing welder
Conventional Welding
Manual GMAW, GTAW & SMAW Tig Stick and Mig
(4) Miller Syncrowave 350
Miller 250 mig tig stick
Lincoln 300 mig tig stick
Miller 350PMiller Syncrowave 250
Idealarc 300/300
Miller 300
(16) Miller 200
Other Welding Equipment
Lincoln Ranger Propane
(2) Plasma Cutter Hypertherm PowerHA800
Plasma Cutter Hypertherm60
Assembly
Pro weld Fastener insert welder
Time saver Steel Deburring Machine
Edge rounding of sharp edges or parts with small burrs from both the top and the bottom in one single pass. The machine efficiently rounds top and bottom edges of all types of metallic material in one pass. Minimum thickness of the parts can be as thin as 0.020″. The machine will not remove dross and burr per se. Paint quality and corrosion prevention is significantly enhanced with rounded edges. Safety for the final user and during handling in your processes is also improved. The risk of injuries is minimized.
Equipment and Capabilities Gallery
Inquire About Steelial Equipment and Capabilities Services: